The evidential breath alcohol testers (EBTs) or "breathalyzers" are high-precision handheld breath alcohol analyzers. Known for reliability, ease of use, and long working life, all Lifeloc EBTs come with an impressive array of standard features and U.S. Department of Transportation (DOT) compliance software that is easy to learn and use. Our breath detection and monitoring devices are also the easiest to calibrate in the industry.
Whether you are administering pre-employment, post-accident, random, or DOT-mandated alcohol testing, Lifeloc alcohol testing devices are designed for high productivity in office or mobile environments. Lifeloc proprietary EasyMode™ compliance software effortlessly guides operators through the DOT alcohol testing protocol. Equipped with secure wireless printing (no docking station required), numerous communication options, and an impressive extensive list of standard features, the Phoenix 6.0BT is the perfect choice for third party administrators, clinics, or anyone conducting workplace DOT or non-DOT testing.
They are tested and approved by the National Highway Traffic Safety Administration (NHTSA), a part of the DOT, as well as multiple forensic laboratories and laboratories in several other countries. All Lifeloc EBTs include a one-year warranty on all system components (including printers, keyboards, and cases). Lifeloc EBTs use a full-size one-inch diameter platinum fuel cell alcohol sensor that is alcohol specific and offers long working life under the most extreme working conditions.
Phoenix 6.0BT
Lifeloc Technologies manufactures an advanced EBT for DOT and non-DOT alcohol testing. The Phoenix 6.0BT includes our signature EasyMode™ compliance software, our PermAffix™ labeling system and Bluetooth wireless communication for unparalleled testing mobility, productivity and ease of use. EasyMode™ software effortlessly guides users through the DOT testing protocol ensuring compliance and valid breath alcohol test results. Secure wireless connectivity between the printer and the Phoenix 6.0BT make testing easy inside or on the road. The PermAffix labeling system eliminates the cost and hassle of security tape with tamper-evident self-adhesive labels perfectly sized to fit the DOT alcohol testing forms. Our archival-quality ATF labels are always crisp and clear, allowing test results to be reliably copied, faxed, or scanned.
EasyMode™ Software
Ease of use: Provides error-free testing by guiding you through DOT protocol. (automatic air blank, screening test, 15-minute timer, confirmation test, and printout)
Ensures compliance: On a positive test result, gives prompts you need to contact the DER or perform a calibration check
Wireless Bluetooth Printing
True mobility: Up to 33-foot wireless connectivity range
Secure: Encrypted data transmission between printer and unit
Automatic temperature: Compensation heated print head for fast, clear results in any climate
Long battery life: Low power draw from the printer
Automatic Bluetooth pairing: In-factory pairing of device and printer for out-of-the-box print readiness.
PermAffix™ Labelling System
Tamper evident: Slits on all four corners for enhanced security, reducing the need for messy tape
Self-adhesive: Powerful adhesive that protects against peeling, so you can simply peel and stick
Sized to fit: Cut specifically to fit DOT and other breath alcohol testing forms
Permanent: Clear imaging without smudging or fading
Other Features
Automatic altitude compensation: Built-in barometric pressure sensor to simplify dry gas calibration
Memory: 250-test memory with calibration and cal check results; lithium battery backup
Printing capabilities: All tests and calibration information accessible through the display; choice of 1, 2 or 3 copies, short or long format
Test modes: Automatic, manual, and passive test modes
Subject ID and data field #2: Capable of storing two different ID numbers and/or names: the subject (subject ID) and the operator (data field #2)
Adjustable auto shut-off: Adjustable between 1 and 30 minutes or may be disabled
Calibration: Dry gas or wet bath; automatic calibration, software controlled adjustments, no tools necessary
Calibration/cal check reminder with lockout: Warns of expiration and locks unit upon calibration or cal check expiration
Self-diagnostics: Programmed self-check assures unit is operational upon power-up
AlcoMark™: Optional software for downloading/printing tests to a PC
Phoenix 6.0BT GK Kit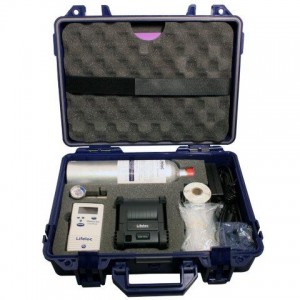 The perfect solution for the DOT professional, the GK kit comes complete with a 34-litre dry gas tank for easy calibration and calibration checks for your EBT. Perfect for on-the-go alcohol testing, all components are packed in our sturdy carrying case with protective foam so nothing shifts during transport. The kit allows you to perform calibration and calibration checks whenever necessary so you can be assured of DOT compliance.
Phoenix 6.0BT EBT
Bluetooth printer
Printer charger
1 roll PermAffix labels
100 EasyTab™ mouthpieces
50 DOT and 50 non-DOT forms
User manual
Calibration adapter
Wrist strap
Four AA batteries
One-year deluxe warranty
Carrying case
Contact us to purchase the Lifeloc Phoenix 6.0 and kit units.