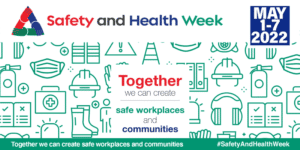 North American Occupational Safety and Health (NAOSH) week highlights the importance of preventing injury and illness in workplaces, at home, and in the community. Everyone deserves to go home safe at the end of the day.
Launched in June 1997, NAOSH week is an agreement between Canada, the United States, and Mexico. Coming together to spread awareness, NAOSH established a successful community-based approach. Local, provincial, and regional committees coordinate the week's events and activities nationwide. Volunteers and organizational partners alike share a focus on safer workplaces and communities. Government partnerships and health organizations provide the needed support and resources required for NAOSH week each year.
CannAmm is proud to recognize events that prioritize occupational health and safety. For more details on the history of NAOSH week and its logo check out our Community Involvement page.
NAOSH week is also supported by our corporate charity Threads of Life. This incredible organization provides several resources including speakers and local events. All efforts and information provided help prevent avoidable injuries and illnesses.
NAOSH Week occurs May 1-7, 2022, and has its virtual kickoff on Monday, May 2. You'll be able to join national partners from across the nation, hear inspiring stories, watch the finalist videos from the Focus on Safety National Youth Video Contest, and share in the excitement of the announcement of the winner.
Looking for events in your local area, how to get involved, or resources available in your province? Visit the official website today.