North American Occupational Safety and Health Week was first launched in June 1997, marked by an agreement between Canada, the United States and Mexico. The goal of NAOSH Week is to focus employers, employees, partners and the public on the importance of preventing injury and illness in the workplace, at home and in the community.
The success of NAOSH Week is rooted in a community based approach. Across the country, NAOSH Week events and activities are coordinated by local, provincial and/or regional committees, comprised primarily of volunteers, who share a focus and vision of safer workplaces and communities. Partnerships with government, business, suppliers, CSSE Chapters, community health organizations and other safety groups provide the support, resources and network necessary to manage the NAOSH Week plans. As a motivational champions sponsor, CannAmm is able to show support as well as recognize those who participate in NAOSH Week by championing the NAOSH Week Awards Program.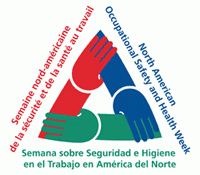 Three hands forming an equilateral triangle portrays the three participating nations – Canada, the United States and Mexico – and symbolized joint venture, cooperation and the commitment to the common goals shared by all occupational health and safety partners. The three sides stand for partnership of the three countries in this joint occupational health and safety venture, as well as all tripartite partnerships between business, labour and governments. The connected hands illustrate assistance and cooperation on many levels – from interpersonal relationships in the workplace to international exchange.
NAOSH Week is May 3-9, 2015. For more information, please visit their website at http://www.naosh.org/english/.