Threads of Life – Steps For Life 2023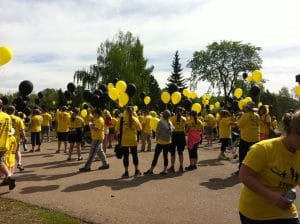 CannAmm Occupational Testing Services is proud to support several non-profit organizations across Canada that align with our mission, vision, and values. One of these incredible organizations is Threads of Life, the Association For Workplace Tragedy Family Support. Threads of Life is dedicated to supporting families after a workplace fatality, life-altering injury, or occupational disease with several support programs and services.
Since 2011, CannAmm has been a dedicated sponsor for Threads of Life. Our team members have been passionate participants and have helped raise both awareness and donations for this incredible group. As a team, we encourage our staff across the nation to sign up for the Steps For Life event and walk with their fellow coworkers. Some of our members have even participated for consecutive years with their kids, instilling the values of support and empathy.
Each year Threads of Life hosts a 5 km flagship fundraiser, Steps For Life, which aims to educate the community about the devastating ripple effects of a workplace tragedy and how Canadians can work together to prevent others from being injured or killed on the job. The event also is a space where families can meet other families who have suffered similar pain and loss and help raise awareness of the national issue of workplace injuries/illnesses and death. The organization creates a network of support through volunteers from across the country who have been personally touched by a workplace tragedy. All proceeds from the Steps for Life events support the Threads of Life programs and services that support more than 3,350 family members from across the country.
As a team, we encourage you to visit the Steps For Life website and see if there is an event being held in your community this May and how you can get involved. If you're looking to join virtually there is an amazing national online event being held as well, letting you and your family walk from anywhere at any point in May!
Here at CannAmm, we strongly believe in getting involved with the community. Whether it be by volunteering or donating, we feel that it is important for businesses to rally around their communities to give back. CannAmm is fortunate enough to be a national sponsor for the Steps for Life walk and encourages others to take a look at this important organization to see how they can get involved.  Looking for more information? Check out our Community Involvement page or the Threads of Life or Steps For Life websites today! Their amazing representatives would be happy to assist in any way possible.