In 2019, the Department of Health and Human Service (HHS) announced the guidelines for the inclusion of oral fluid specimens in the Mandatory Guidelines for Federal Workplace Drug Testing Programs. This opens the possibility of oral fluid drug testing for US DOT drivers in the future. But additional rulemaking by the U.S. Department of Transportation updating 49 CFR Part 40 is required before oral fluid testing can be included in your Alcohol and Drug Program.
CannAmm has been working to proactively prepare for this likely change. Much is unknown at this time. The answers will be revealed once the updated 49 CFR Part 40 has been released. That being said, we are aware of the following:
49 CFR Part 40 is currently being reviewed by the FMCSA.
While oral fluid testing will be allowed, it does not appear to be required. We expect that DOT clients will still be able to choose to use urine testing only for their program.
Specimen collection, laboratory analysis, and medical review of oral fluid test results will essentially mirror existing procedures and processes for urine drug testing.
Oral fluid specimen collections will be observed.
The collector will use an FDA-cleared specimen collection device.
Specimen collection will require split specimen procedures using 2 separate devices, collected simultaneously or serially at one specimen collection event, or using one collection device in which the specimen can be split.
Laboratories will be approved/accredited by the HHS National Laboratory Certification Program (NLCP) for oral fluid drug testing. Laboratory inspection, quality assurance, and proficiency testing programs will mirror those in place for urine drug testing laboratories.
Currently, there is no movement on lab certification. The lab cannot apply until early to mid-2021 and then the certification process will begin. This process can take months.
Devices that will be able to perform the required testing are currently in development. These devices are expected within 6-12 months.
As we mentioned, this is what we know now. Information may change as this process proceeds. We will keep you updated as material information becomes available.
You may be curious as to cut-off levels outlined in the HHS guidelines. They are below. Please keep in mind that these levels will differ greatly from urine because the sample is very different.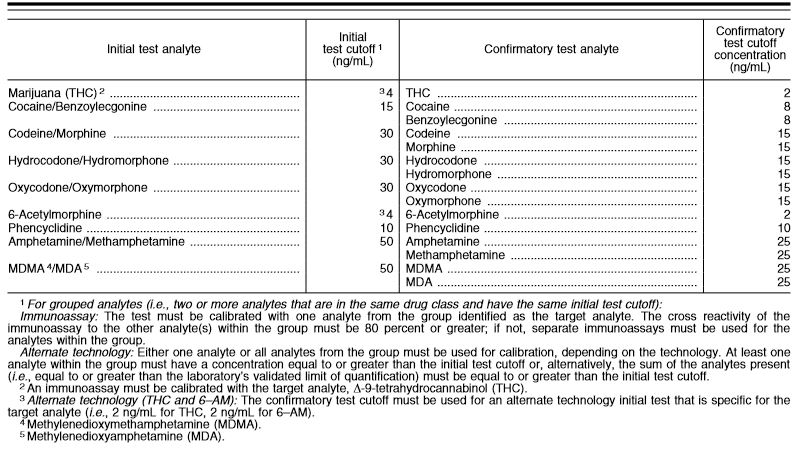 If you have any questions or would like to discuss your account, please contact your Account Manager or our Sales Team via email at sales@cannamm.com